Available for Adoption
Arrives October 2017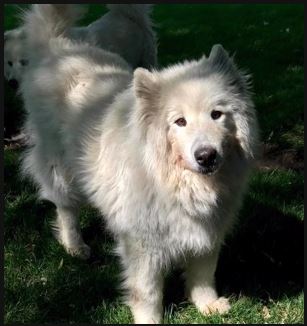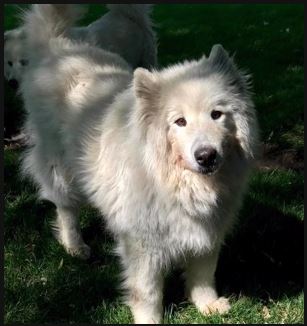 Dayzee is a senior Female rescued from Salt Lake City.
Miss Dayzee- Unfortunately until just recently this girl has not had a kind life. She was picked up during the Fourth of July holiday by Animal Control. It was extremely hot , she was wandering , thirsty, and disoriented ( she is mostly deaf). She remained unclaimed at the shelter for 10 days-was given the seven day extension-still no one came for her or showed interest. While she was in the shelter and they were doing an evaluation it was noted that she tried to bite a volunteer. Had they taken a closer look they've had seen that her mouth was fully infected her gums were inflamed the girl was drooling thick infection from her mouth. She could not eat for the teeth in the front we're just loosely hanging on and it was an effort to drink water. I drove down and picked her up the day before her time was set to expire-and I first noticed the horrific smell ( like a dead rotting animal) which led me to take a closer look at her mouth. The following morning she visited are Rescue Vet Clinic-she was put on a heavy dose of anabiotic's and mild pain reliever she would not let anybody come near her mouth she was in severe pain. We also had no history on her so we had to have her fully vaccinated. For the next four days she enjoyed ice cream sandwiches yogurt butter bread and tiny pieces of cheese. Anything we could get into her with her medication. By the end of the week it was determined she was ready for some dental surgery. She had 16 teeth removed, some easily pulled, a few fell out when touched and some fell apart so they had to be cut out. She was able to keep her canines they have recessed gums lined but seem strong enough and in her case are extremely needed. During the operation she was also spayed- her uterus was completely full of cysts. They were also planning to repair a herniated belly button but once she was shaved and they took a closer look they realized it was a pretty large flat brown tumor. They removed the tumor also five inches in length. It took a couple of days for her to realize what actually happened to her-The pain of something was still there but it was not what she had been experiencing for a very long time. She came back to the yard and has improved 100% every single day. Her tail is wagging she has incredible sparkle in her eyes. She is deeply affectionate she is house trained. She is very hard of hearing- but she follows hand signals and stays very close to people anyway. Favorite place is a half-size dog bed next to the couch she likes to just lay her head in the dog bed in her body halfway under the couch. Has been sleeping a lot- but her activity level has increased she also has been on a few short walks the last couple of days. I did get the lab results back on the tumor which was removed- I will include the lab results in the picture portfolio. Did test positive for cancer but they feel that the surgeon removed everything. It is the lowest grade on the chart and they do recommend she be rechecked every year. She is eating well -in fact she loves to eat. She still has not been able to master a bone but she sure likes to carry one in her mouth now. My best guess because of the extenuating dental disease, we think Miss Dayzee is 8 to 10 years old. She does not seem to have any stiffness or arthritis in her joints she can easily do the stairs and has been going on short walks. She is very social with adults & children, other dogs (unless you've just given her a cookie) she does enjoy the car rides too!! It is hard for me to set an adoption fee for this sweet gal. We have invested several hundred dollars in her-I want her to have a very happy life moving forward. She is a great companion for someone who just needs that special friend close by. I will help with transportation to an approved home. Again I just want her treated like a Princess every day for the rest of her life.
Adoption Fee: Undetermined